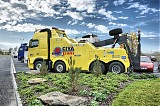 CIVA trans offers towing of trucks over 3.5 with the VOLVO FH 16 rescue truck, EMPL body.
The towing truck has 2 driven rear axles and is fitted with central electronic control, two winches 10 and 20t, servicing equipment and comprehensive fastening and binding components.
The vehicle is capable of towing semi-trailers, trailers, buses, and truck sets (loaded).
The towing service is operated by a team of two well-trained experts.
We operate as a contractual partner to insurance companies and assistance services.
Call 24-hour service at 602 150 139 or 736 688 840.

...more from the photo gallery here »